VOLCOM TURNS DOWN THE TAP WITH THE INTRODUCTION OF NEW WATER SAVING DENIM JEANS
In case you didn't already know, Denim can be a DIRTY  BUSINESS. However, Water Aware is a significant new milestone in Volcom's journey to sustainability, a commitment to responsible manufacturing practices, better fibre sourcing, assessing impacts and meaningful givebacks that began 12 years ago. The release of the Volcom Fall 2019 collection is marked by the worldwide introduction of the new Water Aware denim jeans across all men's, women's and youth styles. By introducing reformulated water-saving techniques in the finishing processes during the production process Volcom have been able to achieve an average savings of 13 litres of water per jean. And they are not stopping there.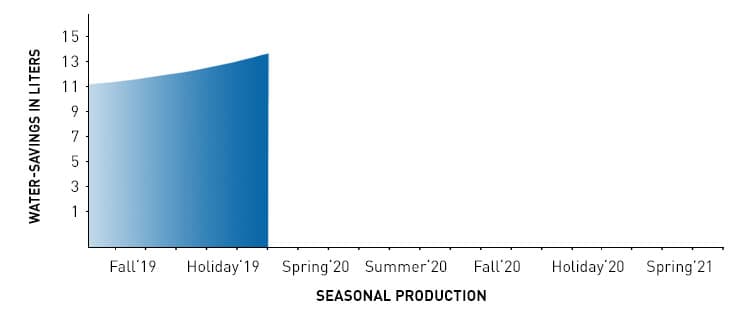 Volcom, are committed to addressing the environmental impacts associated with the production of its clothing and are continually seeking ways to eliminate or reduce these impacts. After evaluating all the stages required to produce a pair of denim jeans, the impact most immediately addressed was the usage of water in the finishing processes of Volcom jeans.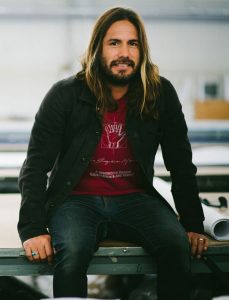 Volcom Global Design Director, J.J. Gonzales, along with the Volcom production team, worked with the factories that produce denim to switch to enzyme wash and ozone finishing techniques and combine traditionally separate wet cycles into single processes. Inspired by the Water<Less™ techniques developed by Levi's and using their 'Open Source: Water Innovation' guide, this is something Volcom hope that other brands adopt as best practices too. Volcom is on track to save an estimated 4 million litres* of water over the rest of 2019.
"IN SOME WASHES WE'RE SEEING UP TO 35 LITERS OF WATER SAVED. IT'S PRETTY EPIC AND WE'RE STOKED TO BUILD UPON OUR SUCCESSES TO CREATE AN EVEN GREATER IMPACT OVER TIME." -J.J. Gonzales, Volcom Global Design Director
Water Aware is the next chapter in Volcom's journey to sustainability following the company's Fair Labor Association accreditation, and is in line with  Volcom's ambition to make the largest impact by introducing more sustainable materials or processes across to the products that produce in the greatest volume. It follows the similar strategy around other high volume categories, like Volcom men's Mod-Tech trunks, Frickin chinos and women's swim, where the company introduced REPREVE® and Econyl® recycled fibres, respectively. With pants being one Volcom's largest categories and jeans representing a weighty portion of the category, being able to reduce water usage by almost 40% in the production of all Volcom denim, the savings is tremendous.
Looking to the future, Volcom will continue to increase the average water savings per jean by adding more denim washes with even higher efficiency gains to its line and exploring other stages in a jeans' cradle to the grave lifecycle where they can reduce water usage.
"THE LARGEST AMOUNTS OF WATER USED IN MAKING JEANS IS ASSOCIATED WITH COTTON GROWING, FOLLOWED BY THE CONSUMER'S CARE, WHICH IS WHY WE'RE REALLY EXCITED BY THE PROSPECT OF EXPANDING OUR FARM TO YARN ORGANIC COTTON PROGRAM INTO FUTURE DENIM PRODUCTION AND DEVELOPING CUSTOMER EDUCATIONAL MATERIAL THAT URGES THEM TO JOIN US IN REDUCING THEIR IMPACT ONCE THEY TAKE THEIR JEANS HOME." -Ryan Immegart, Volcom Chief Marketing Officer
*Water savings based on Levi's 'Open Source: Water Innovation" guide and average 34L water consumption (net freshwater taken from the environment minus water returned to the same watershed at the same quality or better) per jean during garment finishing which is the last step when making jeans after each pair has been sewn and can involve many wet processes.
HOW VOLCOM SAVED 17.8 LITRES OF WATER WHEN MAKING THESE JEANS
Today the average savings across all men's, women's and kids' jeans is 13 litres, meaning that some colourways save less water, while others save more. For example the Thrifter Blue Light colourway available in Volcom's 2×4 Skinny Fit and Solver Modern Fit jeans use 17.8 Liters less water in their production when compared to traditional jeans finishing methods. This colour is a prime example of what Volcom's reformulated garment finishing processes entails and the reduction in a number of wet processes that is possible while still maintaining the integrity of Volcom's wash library.
For all Volcom Men's denim they've removed 1 wetbath by skipping the softener bath at the end of the finishing process to achieve a more rigid feel. Traditionally, softener is applied to jeans in a wet bath to achieve a softer feel. Average Water Savings = 6L/jean
By combining the "desizing" (removing the starch added to the yarn that remains through weaving, cutting and sewing) step with the enzyme wash and forgoing the pumice stones, we eliminated 2 wetbaths, a desizing and rinse. Typically jeans in these early stage steps would require 4 wetbaths. Average Water Savings = 11.8L/jean
*Not every colour of jeans uses these same 2 specific water-saving steps, some use more, some less, processes vary for each colour depending on the desired outcome. Savings calculated using Levi's 'Open Source: Water Innovation" guide and Lifecycle Assessment.
Find out more HERE
Or Read our Professional Edition investigation into the Dark Side of Denim by clicking our cover  image below.